---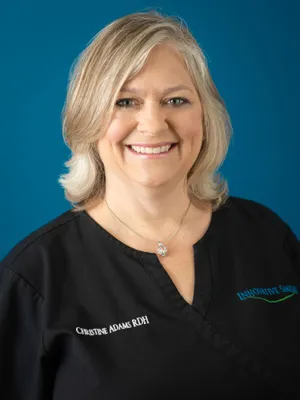 Christine – Registered Dental Hygienist
Christine has been with Innovative Smiles since 2000. She has been a practicing dental hygienist since 1989. Christine is excited to be a part of the Innovative Smiles team and loves the fact that Dr. Alkhiro is so caring and passionate about dentistry. Her favorite part of being a dental hygienist is building the relationship with her patients.
Christine and her husband, Greg, have two children. Chase is a graduate of Texas A & M University and currently serving in the United States Air Force. Paige is a student at Baylor University studying nursing. Christine spends her time outside the office serving on the board of a local dog rescue and fostering German Shepherds.
---
Sandi - Office Manager
Sandi began her dental career over 30 years ago as a Dental Assistant in California. She recently relocated to Houston to marry. As Office Manager her advanced knowledge of the dental profession allows her to guide both staff and patients. Sandi brings a sense of enthusiasm and optimism to the workplace. One of her goals is to be sure things are running smoothly and that the patients and staff are happy! She strives to always listen, and be sensitive and compassionate to others' needs.
Sandi has two children who live in Chicago and Santa Cruz California. She has three grandchildren, two boys and one girl, ages 3, 6, and 13. In her free time, she enjoys cooking, gardening, cycling, yoga, and spending time with her husband.
---
Esperansa - Registered Dental Assistant
Esperansa brings over 7 years of chairside dental assisting. What she loves most about her job is connecting with her patients on a personal level. Her priority is to make sure her patients are comfortable and happy.
When not at work Esperansa enjoys traveling and eating good food with her family. When alone, she loves long walks through the aisles of Home Goods and Target to satisfy her obsession with home décor.
Esperansa and her husband Sam, have two beautiful daughters, 5-year-old Ana, and 1-year-old Mila. Ana loves to sing and dance, and loves everything pink and glittery! Her baby girl Mila is the daredevil of the family! She loves running and climbing on furniture while chasing their two dogs Max and Minnie.
---
Gilda - Registered Dental Assistant
Gilda has been working as a Dental Assistant for 3 years. She always wanted to become a Dental Assistant since she was a young girl and it has been a great fit for her. She loves what she does and enjoys our patients. On her days off, Gilda enjoys visiting her family in the Rio Grande Valley. They enjoy BBQ, working in the yard, and just being together. She also enjoys spending time with her dogs Princess, King, and Bella.